Trade Best Practice Series

Your quick and efficient entry into the painting industry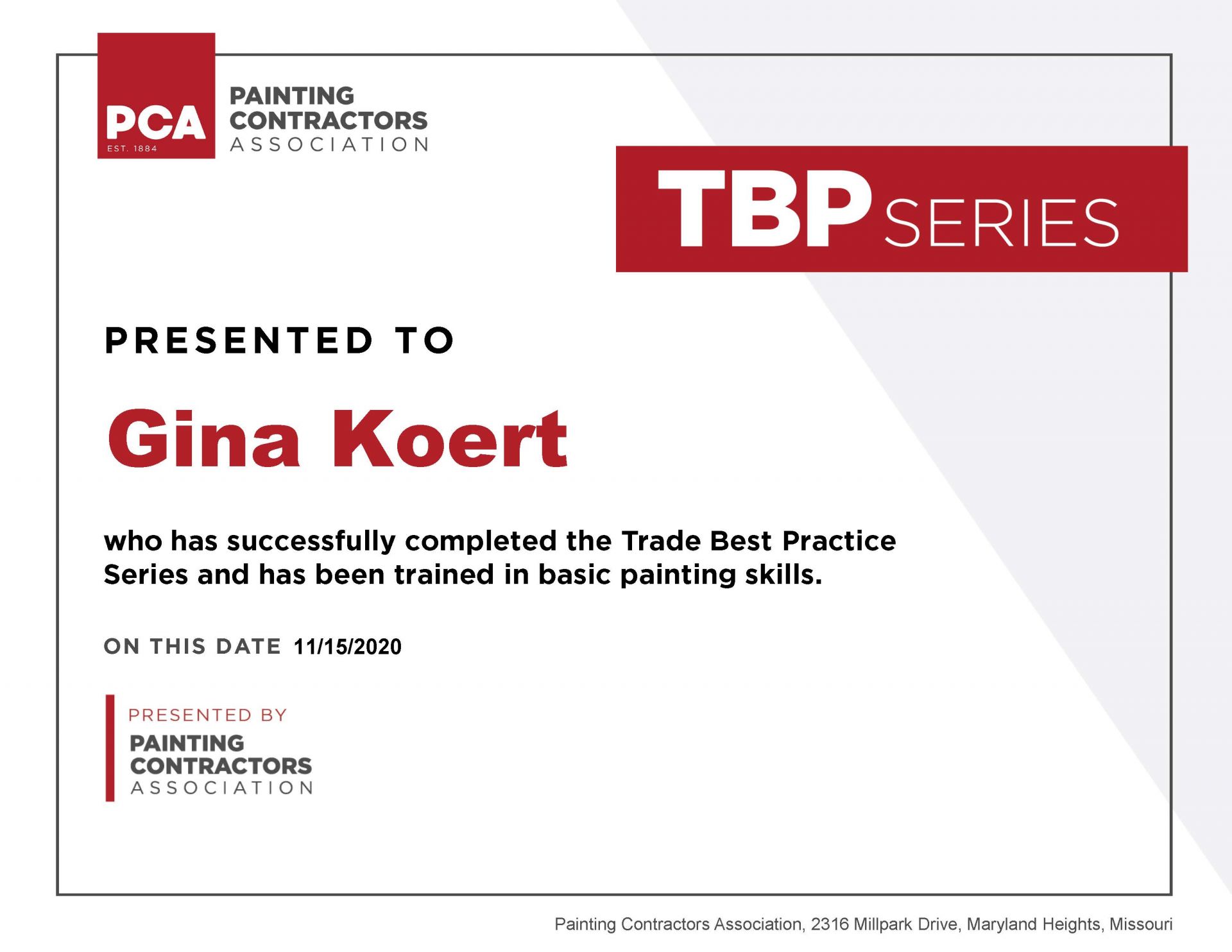 15 Training Videos

15 Quizzes

Certificate Upon Completion
Train quickly
Get out into the field faster with basic painting skills that will deliver a quality job day in and day out.
Jump start your career
Getting into the painting industry has never been easier. The Trade Best Practice Certification will launch you in the right direction.
Watch a Demo of the Quizzes
Course Content

Episode 1- The Painting Industry
Episode 2- Cleaning
Episode 3- Taping
Episode 4- Masking
Episode 5- Huddle-Up & PPE
Episode 6- Sanding
Episode 7- Spackling
Episode 8-Caulking
Episode 9- Planning & Sequencing
Episode 10- Priming
Episode 11- Brushing
Episode 12- Rolling
Episode 13- Cleanup & Closeout
Episode 14- Business
Episode 15- Expertise
What
PCA

Members Have to Say

Risa Roe

ARP Painting

"I will be using this series to help my team reach new levels of skill and additional income. Your program comes at a perfect time for us."

Chad Jeffries

Brick City Painting & Drywall

Training complete with a certificate is long overdue in our industry. I like how the videos and assessments can be used to compliment hands-on training.

Adam Roe

ARP Painting

"The "Tell Us About Your Job" section of the series humanizes the trade and helps new hires see themselves as being part of a team and learning a life skill."
Invest in your career
The TBP series is the fastest way to jumpstarting your career in the Painting Industry. If you work for a PCA member company, you can enroll for free with a promo code. For non-members, enrollment is $99 per trainee.
Don't hesitate
Take your career and expertise to the
next level!
FREQUENTLY ASKED QUESTIONS
How do I sign up for an account?
To sign up for an account in our training portal you can use a social media account, such as Facebook, LinkedIn, or Google, or you can sign up with just your name, an email address, and a password.
I forgot my password. How do I reset my password?
You can either prompt the system to reset your password for you by clicking on the "Forgot your password?" in red at the bottom of the login pop-up or by contacting the system administrator at
[email protected]
.
How long will I have access to the course?
The course should only take about 5 hours from start to finish, but you will have forever access to the series.
How many attempts do I have to pass the quizzes?
You only have two attempts to pass each quiz with a score of 70% or higher.
Am I required to watch the full video before I can take the quiz?
Yes, you must watch the entire video before the quiz is unlocked.
How do I access my certificate?
After you have successfully completed each video and passed each quiz, you will receive a certificate of completion. You can download the certificate, share it to Facebook or to your LinkedIn profile. You can always log back into your training portal account and go to your profile to see and download your certificate again at any point.
How do I track my employees' progress?
The program shouldn't take that long to complete, but if you'd like to see where a specific employee is at in the course, please contact the system administrator at
[email protected]
.
The training portal uses PayPal as our payment gateway to process payments. You will be taken to a PayPal payment page to complete your purchase. You do not need to have a PayPal account to complete your purchase. Inside PayPal, you can pay with any credit card or bank account that you have connected to your PayPal account.
The PCA training portal unlocks training materials and gives automatic access to materials at the time of purchase. Once the course is purchased, no refunds will be issued.
If you are a PCA member and did not use the promo code and were charged the non-member price, please contact
[email protected]
to request a refund. Once your membership is verified, a refund (minus processing fees) of the overpayment will be issued to the card used for the purchase.
What is the PCA member promo code?
How long does the promo code run?
The promo code will be changed twice a year. Check your email for updates or contact
[email protected]
.
I am a member, but I was charged the non-member price. How do I unlock this price?
If you don't enter the promo code at checkout, you will be charged the non-member price. Please contact
[email protected]
to verify that you are a current PCA member and start the refund process. Please note that refund will be minus processing fees.
Who do I contact with additional questions?
If you have any technical questions or issues, please contact the system administrator at
[email protected]
.